24FT 4000 PSI Telescoping Lance Pressure Washer Spray Wand Power Washer Gutter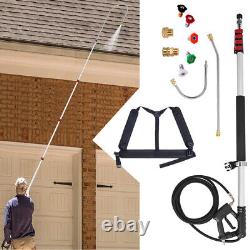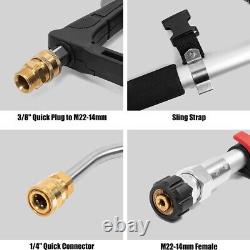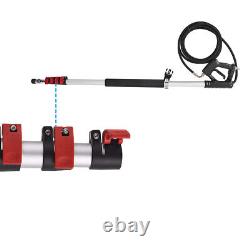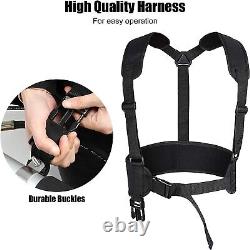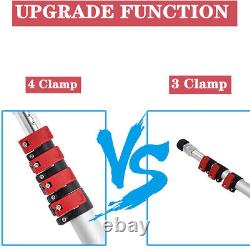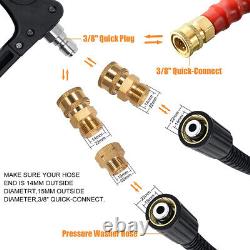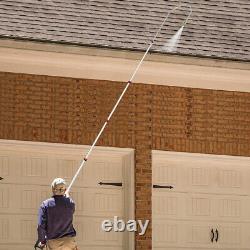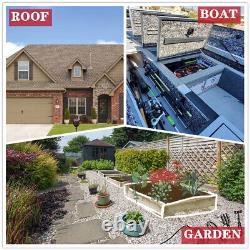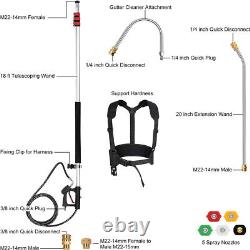 Compared with other telescoping pressure washer wand with 3 Clamp, our telescopic pressure washer wand is made of lightweight and sturdy aluminum and fixed by 4 Clamp for Telescoping Wand respectively, whole power washer telescoping wand can be stretched into 5 sections. This design part let pressure washer telescoping wand more stable and no shaking during cleaning. Telescoping lance's working pressure is up to 4000 PSI, max burst pressure is 9000 PSI. The pole is made of tough aluminum alloy with enhanced density, which can work under the water pressure of 4000PSI. Thickened aluminum tube will not leak water easily. The rust-free design makes this kit extremely weathertight and ideal for outdoor use. There are 4 adjustable sections with lever locks, set up the length you need, then lock it down for even results. M22-14mm male thread outlet keeps extension wands stable.
Pressure extension rod adopts quick-locking device, which is more convenient to use and will not cause the telescoping lance to contract during use because of no tightening, ensures operation safety. The telescopic extension wand works with gas and electric pressure washers up to 4000 PSI. It has a 3/8'' quick plug inlet fitting, can be attached to the hose with 3/8'' quick connector directly, or use extra 2 brass adapters to connect M22-14 mm and M22-15mm hose. NOT FIT GARDEN HOSE OR WATER HOSE.
According to your need, you can use 5 different spray angle nozzles(0, 15, 25, 40, 65 degree) for cleaning the gutter, driveway, pool deck, roof, sidewalk, pool yard, patio, porch and so on. Compared with one shoulder belt, double Support Belt let you feel more comfortable, educes strain on your neck, back and arms. So you have enough time to work. Telescoping Wand Kit, 4000 PSI. Telescoping wand can clean up to 24 feet high from the ground, with the water being carried through a durable hose.
Connecting appropriate extension wands and spray nozzles, it provides quick cleaning and allows you to complete pressure washing projects in a fraction of the time. This design part let pressure washer telescoping wand more stable and no shaking during cleaning roof. When you see a word "stop" on the pressure washer wand extension, please stop extending the power washer extension wand.
Because plastic locker may be broken owing to continue to extend the power washing extension pole for over size. You can Set up the length of it that you need, then lock extended pressure washing wand down for suitable results. You can clean higher place from 5 to 24 feet, such as siding, second storey and gutters from the ground during you have no ladder. 1 x Extension Wand with 1/4 Fitting. 1 x M22-14mm to M22-15mm adapter.
1 x 3/8'' Quick connect to M22-14mm male thread connector. We are always happy to give assistance. We will get back to you within 24 hours. We wish to hear from you! Your satisfaction is our motivation.
Most packets can be tracked.

---