Ar 2600 Psi Power Pressure Washer Pump Srmw22g26-ez For Troy-bilt Excel Vr2500 +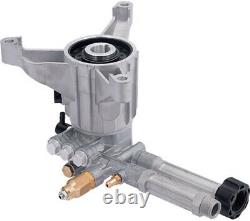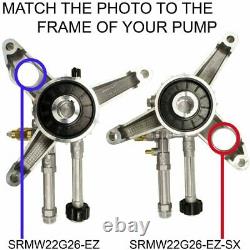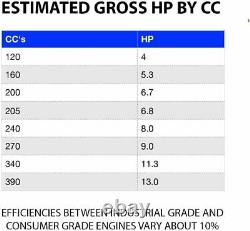 Annovi Reverberi, AR North America, SRMW22G26-EZ, 2.2 GPM, 2600 PSI Economy Axial Radial Drive Pump, Fits: Briggs And Stratton / Troybilt: 1974-2, 1974-0, 1909-0, 1908-2, 1908-0, 1902-1, 1902-0, 1811-0, Natural. Universal replacement: works with majority of store bought vertical (pump under) engine Pressure washer with front facing inlet/outlet connection gas pressure washers. Rear facing connections available in the srmw22g26-ez-sx. 2 GPM at 2600 psi.
Easy start system: built in for simple & quick cold starts. AR, based in northern Italy, is a privately owned company which has been product orientated right from its humble beginnings in 1958. Designing, developing and building pumps for almost 6 decades with passion and integrity: these have been the milestones of ARs success. Millions of AR pumps are being used every day all over the world, in a multitude of applications, from pressure cleaning in Australia to crop spraying in Zaire.
This pump is for vertical gas engine driven units. The pump includes a built-in pressure control valve, downstream chemical injection system, EZ start valve and thermal relief valve. Annovi Reverberi offers the SRMW22G26-EZ and SRMW22G26-EZ-SX 2,600 PSI triplex plunger pumps in two different mounting configurations. Please reference the pictures below showing the mounting difference between the two models.
Specifications: 2.2 GPM at 2,600 PSI and spins at 3,400 RPM. This pump mounts directly on to the engine shaft by using a keyed hollow shaft connection system. Comes with Easy Start Valve (EZ). 3-piston alternating volumetric pumps for use on cleaning units. Can be directly coupled to various types of motors.
Pump body in die-cast aluminum alloy. The mounting flange provides a convenient connection to most 7/8 diameter shaft vertical gas engines in 4 - 7 HP (reference the cc to HP chart) and fits most OEM carts. SX - 180 Rotated Shaft Configuration. Oil Capacity (oz) 2.2.
Available in two different mounting configurations the Annovi Reverberi SRMW22G26-EZ-SX and SRMW22G26-EZ 2, 600 aluminum vertical gas flange residential plunger pump. 2 GPM at 2, 600 PSI spins at 3, 400 RPM. This pump mounts directly on to the engine shaft.
The mounting flange provides a convenient connection to most 7/8 diameter shaft gas engines. 4 - 7 HP engines (see images for chart of estimated gross HP by CC). The hollow shafted pump includes a built-in pressure control valve, and chemical injection system. The version has upgraded grade valves. Pistons driven by swash plate mechanism. Two bearing systems, to support the pump shaft and pistons. Pistons in hardened and tempered steel. Pump head in pressed brass.
Intake valves fitted above the pistons for greater efficiency. 180 degree rotated shaft configuration (SX). See pictures for example of the difference between EZ and EZ-SX. Briggs & Stratton / Troybilt: 1974-2, 1974-0, 1909-0, 1908-2, 1908-0, 1902-1, 1902-0, 1811-0, 1807-1, 1807-0, 1802-1, 1802-0, 1793-0, 1770-0, 1694-4, 1694-1, 1694-0, 1674-0, 1537-1, 1537-0, 1536-1, 1536-0, 1467-3, 1467-2, 1467-1, 1467-0, 1439-1, 1439-0, 1430-0, 1429-0, 1171-0, 1120-0, 1067-0, 1053-0, 1052-1, 0790-2, 0778-1, 020401-0, 020400-0, 020399-0, 020393-0, 020391-0, 020390-0, 020388-0, 020387-0, 020386-0, 020384-0, 020378-0, 020377-0, 020376-0, 020375-0, 020373-0, 020363-0, 020362-0, 020359-0, 020349-1, 020349-0, 020348-0, 020346-0, 020345-1, 020345-0, 020344-2, 020344-1, 020340-0, 020337-2, 020337-1, 020337-0, 020333-3, 020319-0, 020318-0, 020306-4, 020306-3, 020306-2, 020306-1, 020306-0, 020305-1, 020305-0, 020304-1, 020304-0, 020301-3, 020301-2, 020301-1, 020301-0, 020300-0, 020296-1, 020296-0, 020293-2, 020293-1, 020293-0, 020292-3, 020292-2, 020292-1, 020292-0, 020291-4, 020291-3, 020291-2, 020291-1, 020291-0, 020290-2, 020290-1, 020290-0, 020289-0, 020288-0, 020274-3, 020273-2, 020273-1, 020273-0, 020272-1, 020272-0, 020271-0, 020261-1, 020261-0, 020250-0, 020248-2, 020245-3, 020245-2, 020245-1, 020245-0, 020244-2, 020244-1, 020244-0, 020240-2, 020240-0, 020239-1, 020239-0, 020238-0, 020229-0, 020228-2, 020228-1, 020228-0, 020227-0, 020223-0, 020222-2, 020222-1, 020222-0, 020219-0, 020218-2, 020218-0, 020215-0, 020214-2, 020214-0, 020213-0, 020211-2, 020211-0, 020207-1, 020207-0, 020206-2, 020206-0 Delta: DTH2450, DT2400CS, D2300B, DTT2450, D22306 Excell: A07846, A14292 Replaces Devilbiss Pumps: A0108, D24856, D26775, DD26776, D27916, D27983, D27984, D28744, D28745, A01702, A01702, A14527, A14292SV, D21258 Homelite: HU80714, HL80833 3-N-1 Hi-Speed, UT80709, UT80911, UT80911A, UT80709A, UT80835 3-N-1 Hi-Speed, UT80933 3-N-1 Hi-Speed, UT80993, UT80993A 2700 PSI Gas, GC80747 G-Clean, HLCA80710, HU80709, HU80911, HU80709A, HU80911A, HU80915, HU80715, HU80722, HU80722A, HU80833A 3-N-1 Hi-Speed, HUCA80709A, PS262311, PS80944, PS80946, PS80979, PS80979A, UT80993B, UT80993D, WF80710, WF80911, HL80835 3-N-1 Hi-Speed Husky: HU80722 Mi-T-M: 3-0290 Replaces the Following Pumps: PK17907, PK17908, PK16860, PK16861, PK16862, PK17909, PK18105, 191693GS, 194216GS, 198421GS, 197300GS, 200200GS, and other MTPV series pumps with a 7/8 crankshaft Simpson: 90026 OEM Technologies: 8.
Product Dimensions: 8 x 6 x 8 inches. Item model number: AR Replacement Pump Kit SRMW22G26-EZ. Best Sellers Rank: #4,091 in Patio, Lawn & Garden (See Top 100 in Patio, Lawn & Garden) #1 in Pressure Washer Pumps #43 in Pressure Washer Accessories.
Date First Available: July 26, 2005. Customer service is our top priority! Please be sure to read the description thoroughly to make sure that this is the item you want before making a purchasing decision. We make every effort possible to accurately describe and depict the items.
Please be aware that slight variations in color may be due to differences in lighting and computer monitor resolutions. Thank you for shopping with us.
If ordering electrical items outside of the U. Please note that they will come equipped with a standard U. You will need a suitable adapter to use the item in your country. An adult signature will be required. Please be sure to have available help on hand to assist you with moving the item to the desired location in or outside of your home.
Only factory defects are accepted as a reason for a return. In the case of factory defects, if available, we will replace the product for you.
When returning an item, it must be in all of the original packaging and include all of the original accessories or items that came with it. The item and package should be in original and perfect condition. We do our best to process as quickly as possible. Orders are processed immediately and dispatched to fulfillment as soon as they are received.
For this reason, we are typically unable to honor cancellation requests. If the order has gone too far through the fulfillment process, we will be unable to cancel. This item is in the category "Home & Garden\Yard, Garden & Outdoor Living\Outdoor Power Equipment\Pressure Washers". The seller is "popeyethesellerman" and is located in this country: US. This item can be shipped to United States.
Model: AR Replacement Pump Kit SRMW22G26-EZ
Type: Cold Water Pressure Washer
MPN: AR Replacement Pump Kit SRMW22G26-EZ
Maximum Pressure: 2600 psi
Brand: Annovi Reverberi

---