Cordless High Pressure Washer, 652PSI Portable Power Washer with 2 Batteries, 3-Sp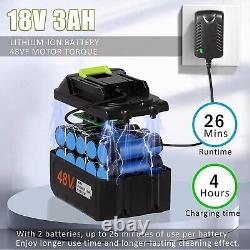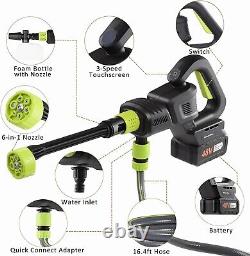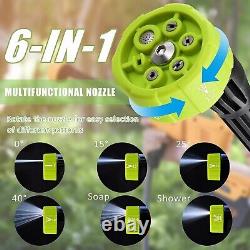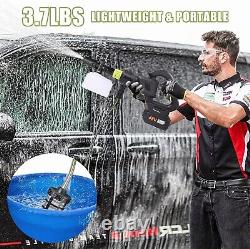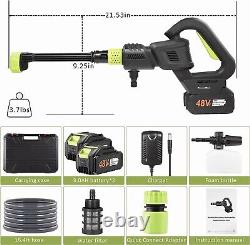 21.53"L x 9.25"W x 3.54H. Portable car washer with maximum working pressure of 652PSI, high quality brushless motor ensures strong jetting power. Three working modes: low speed for light cleaning tasks such as car washing or window cleaning; medium speed for cleaning decks or vehicle tires; high speed for cleaning building facades or swimming pools.
The multi-speed design makes the water gun more flexible for different cleaning needs, allowing you to choose the right mode easily. The cordless high pressure water gun is equipped with a 6-in-1 multi-function nozzle and a foam bottle with nozzle to meet the needs of different scenarios. From fine spray to powerful direct water jets, flexible adjustments to suit various surfaces and dirt types. Whether it's a large area or a localized detail, the cordless pressure washer can handle a variety of cleaning tasks with ease, thus saving time and energy. Water Saving & Environmentally Friendly?
This battery powered pressure washer adopts advanced technology and operates at a low flow rate of only 1.32 GPM, which not only cleans efficiently, but also effectively reduces water consumption. Compared with traditional water gun, this battery pressure washer saves a lot of water. The 16.4 feet hose with water filter can filter out impurities, particles, waste leaves or sludge to better protect the press. This portable pressure washer utilizes advanced battery-powered technology, getting rid of the power connection of traditional water guns. It allows you to move freely and enjoy greater convenience and flexibility.
Meanwhile, the handheld pressure washer has a 26.25-32.8 feet range, easily reaching hard-to-reach areas. Eliminates the need for tedious moving or using tools such as ladders for a full and efficient clean. The durable cordless portable high pressure spray water gun is powered by two high quality 3.0AH batteries, each battery can last for more than 26 minutes. No need to worry about power supply, just charge it and use it for a long time, providing long-lasting support for your cleaning work. Please note that after using the water gun, please disassemble the batteries to avoid the motor absorbing power and wearing out the body. Meet the various needs of the home, from the car to the outdoor space, one machine in hand, hassle-free all the way. Simple to Assemble, Convenient to Carry. This cordless portable high pressure water gun is equivalent to having two switches.
First, after installing the battery to the water gun, then adjust the water pressure of the water gun through the 3-speed touch screen. Finally, after pressing the switch near the handle, you can officially use the water gun. No tedious steps are required, just simple assembly and it is ready to use quickly.
Save time and start cleaning more easily and happily. Simple control panel and humanized design, so you don't have to worry about complicated operation, easy to get started, instantly into the cleaning journey. Compact design, does not take up too much space.
Convenient storage, will not cause clutter in your home, add neatness and beauty to your space. What's in the box? Quick Connect Head (Quick Connect Adapter). OIEXI Cordless Pressure Washer Battery Powered.
5 liters/min = 1.32 GPM. 3.7 lbs (cordless portable water gun + battery). Equipped with high quality brushless motor. Powered by two high quality 3.0AH batteries. Each fully charged 3.0AH battery can be used for up to 26 minutes. Have fun cleaning and choose the Ideal pressure washer!
Suitable for a wide range of scenarios such as car, garden, terrace, indoor, etc. Making your cleaning task less tedious. No need for power or hose, the portable design allows you to pressure wash anytime, anywhere, perfect for outdoor and indoor use. Before using the water gun, make sure that all connecting parts are secure and that there are no leaks.
During use, ensure a firm hand grip to prevent accidental slipping or dropping. When using the high-pressure mode, make sure the distance between the target object and the nozzle is appropriate to avoid damage to the object or personal injury. Avoid leaving the water gun in direct sunlight or in a humid environment for long periods of time to prevent damage and corrosion. Do not immerse the water gun in water or clean the body. The water gun body and battery are not waterproof, so please avoid immersing it in water or using it in rainy days to prevent short-circuiting or other malfunctions.
Do not clean your pet directly, as the sound of the water gun motor may scare your pet, and the impact of the water flow may cause injury to your pet's tender parts. After using the water gun, please remove the battery and store it in a dry and ventilated place to avoid the motor absorbing power and wearing out the body.

---