Electric Pressure Washer 2000 PSI 1.76 GPM Power Washer with 30 ft Hose Cleaner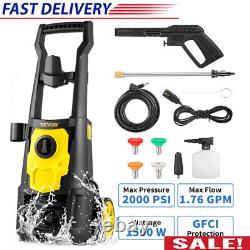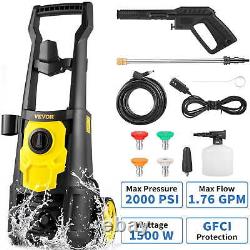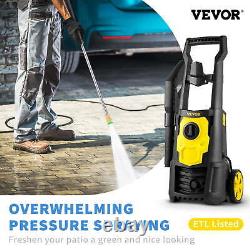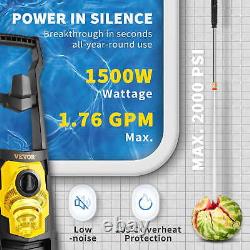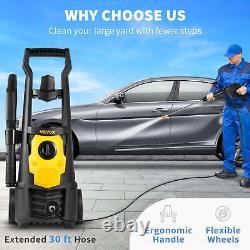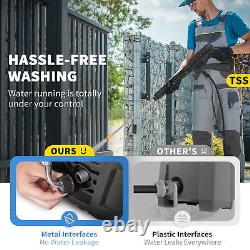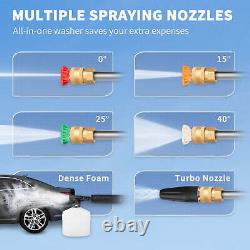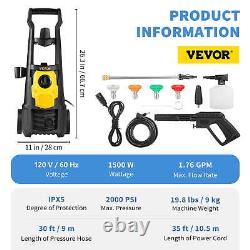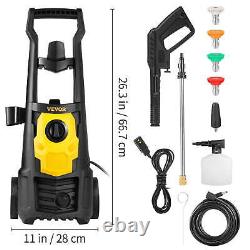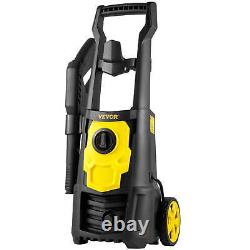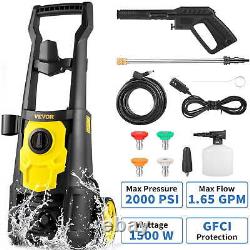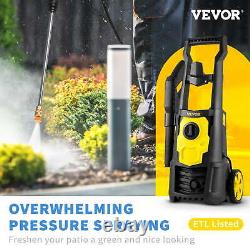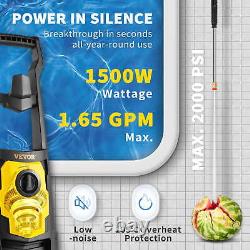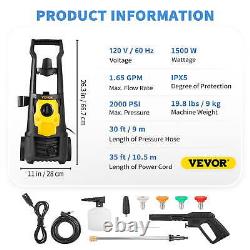 VEVOR is a leading brand that specializes in equipment and tools. Along with thousands of motivated employees, VEVOR is dedicated to providing our customers with tough equipment & tools at incredibly low prices.
Today, VEVOR has occupied markets of more than 200 countries with 10 million plus global members. Why choose VEVOR's high-pressure washer? Complete Accessories & Strong Clean in Seconds. PP-constructed power washer adapts to various working environments without worrying about any damage for years to come. With the filter, our electric power washer efficiently purifies the water, maintaining a continuous and powerful spray.
An extended power cord allows more reach for large areas without walking. Meanwhile, the GFCI is against to electric shock. Multiple spraying nozzles are provided for you to finish different cleaning jobs around your house, saving your extra expenses.
A 500ml detergent bottle is specially designed for self-spraying. With its help, you can get a deep clean for all surfaces. Just pressing the switch on the spray gun enables the gun to be safely locked, preventing any accidental and unintentional discharge of water. Voltage: 120 V / 60 Hz.
Flow Rate: 1.76 GPM. Machine Weight: 19.8 lbs/ 9 kg. Length of Pressure Hose: 30 ft/ 9 m. Length of Power Cord: 35 ft/ 10.5 m.
1 x High Pressure Washer. 2000PSI High-pressure Washer: Built with a powerful 1500 W motor that generates a high water flow rate of up to 1.76 GPM. Hence, VEVOR's electric pressure washer can completely clean up old paint, oil, weed, and other stubborn stains. Ideal for homes, RVs, patios, fences, decks, driveways, cars, lawn equipment, etc. Automatically stops working when temperatures reach over 105?
Ensuring ultimate security and consistent high quality performance. Extended Hose & Leak-proof: A 30 ft hose allows for flexible cleaning in any large area. Our high-pressure washer adopts a sturdy metal water inlet and outlet to avoid water leakage, so you no longer have to worry about water spraying everywhere. Get ready to get every job started right.
Easy to Move & Install: Our power washer made of compact PP plastic features effortless transportation due to an ergonomic handle and 2 universal wheels. Also, just one person is needed to complete the assembly in minutes, which means you'll get your cleaning chore done faster and easier with less strain and fatigue. Provide Security for You: Are you tired of your energy depleting rapidly? Well, get ready to run longer and better.
Built-in TSS (Total Stop System) automatically shuts off the pump when the trigger is not engaged to save energy and prolong the service time of the electric power washer. A press-type security lock prevents the spray gun from being engaged accidentally. We recommend not using it for over 3 hrs at a time.
5 Nozzles for Different Jobs:The pressure washer provides 5 quick-connect metal spray nozzles (0°/ 15°/ 25°/ 40°/ Turbo Nozzle) and a 500 ml self-spraying detergent bottle for best suiting your different cleaning tasks. The water inlet filter makes the water nozzles spray smoothly without any blockage. Therefore, you do not need to change nozzles frequently, saving unnecessary expenses.

---