Electric Pressure Washer- 3500 PSI Power Washers with 4 Nozzles Foam Cannon/ 2023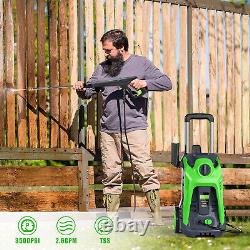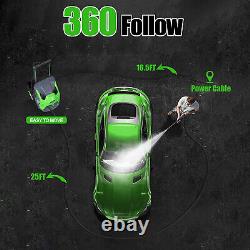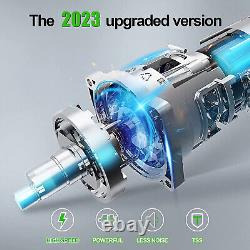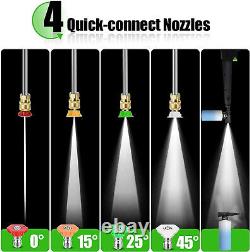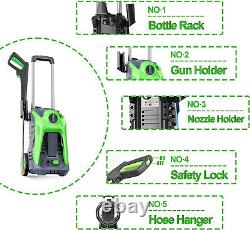 Electric Pressure Washer - 3500 PSI Power Washers Electric Powered 2.6 GPM Car Cleaner with 4 Nozzles Foam Cannon, Clean Cars, Home, Patio. 3500PSI POWERFUL MOTOR-- Upgrade 1800 watt new motor generates Max up to 3500 PSI and 2.6 GPM of water flow and has excellent cleaning ability. Electric pressure washers electric powered can clean cars, bicycles, fences, sidewalks, walls, gardens, yards, outdoor furniture, etc. TSS & 25FT HOSE-- Powerful electric power washer features safety automatic total stop system (TSS), and a 25ft high-pressure hose is long enough for the projects you need, which automatically shuts off the pump when trigger is not engaged to save energy and prolong pump life.
5 NOZZLES & SAFETY LOCK-- Changing the angle of the jet becomes easier and more convenient, change the intensity of the water column as needed, from cylindrical to fan-shaped, Soap dispenser to deeply wash any surface. Clean up to 40% faster by extra quickly attaching Turbo Nozzle. The trigger gun features a children safety lock. EASY TO STORE AND MOVE -- Portable High pressure washers complete with accessories stowed on corresponding hook of the unit after use.
The unique retractable pull rod and wheel make the mobile cleaning machine as convenient as the mobile trolley box, light and easy to move.

---