PowRyte Electric Pressure Washer, 3500 PSI, 2.4GPM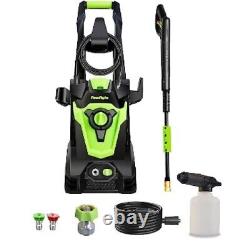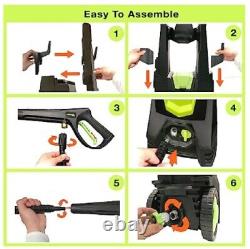 PowRyte Electric Pressure Washer, 3600 PSI, 2.4GPM. [Powerful Cleaning Force] 3600 PSI 2.4 GPM. N-COR pump is durable, non-corrosive and maintenance-free. [Snow Foam Lance] Directly sprays foam. Cleansers don't pass the pump for longer pump's life so you can use chemicals like bleach, vingar and etc.
Thicker and dense foam stays on the surface longer for better cleaning performance. [2 Universal Tips] The 0° tip delivers super high pressure for dissolving stubborn substances on hard surface The 25° tip delivers medium pressure for wood decks, viynl sidings with soft surface. [Suck] Sucks water from container if without any water tap. Garden hose connector size 3/4 inch. [Universal Quick-Connect] Spray wand with 1/4 standard quick-connect end for adding surface cleaner, extension wand, undercarrier cleaner, etc.
And for replacement of foam cannon and nozzle tip.

---