TEANDE Gas Pressure Washer 3200PSI 2.6 GPM 209CC Engine, 5 Adjustable Nozzles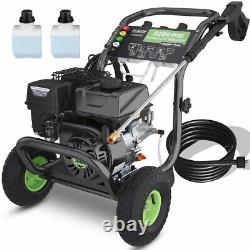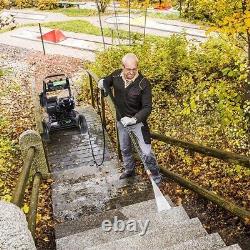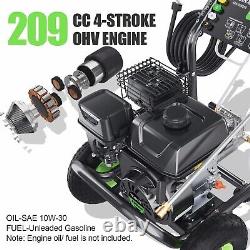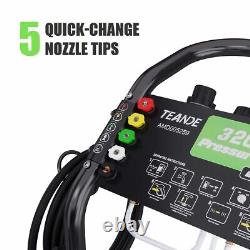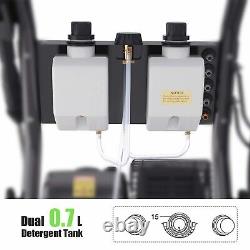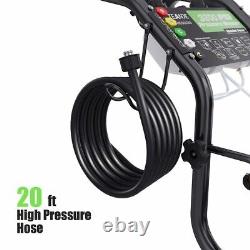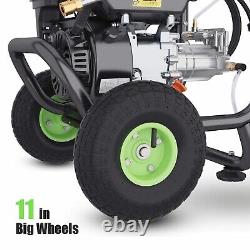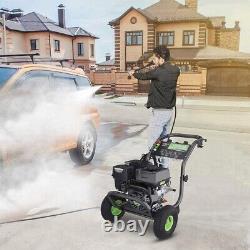 3200PSI Gas Pressure Washer Includes Two 0.7 Soap Tank, 5 QC Nozzles, 20' Hose, EPA/CARB/ETL Compliant. ARE GAS POWERED WASHERS BETTER THAN ELECTRIC ONES? Of course, the pressure of the gas pressure washer is 2-3 times that of the electric, and the all-metal material is very durable. Q2: CAN I CHANGE THE PRESSURE HOSE? WHAT TYPE IS SUITABLE FOR IT?
Es, the hose is changeble. Any type of pressure hose with two ends of M221.5mm (fine thread) and 14mm will be fine. Q3: WHY DOESN'T MY PRESSURE WASHER REACH FULL PRESSURE?
There are many possible explanations for why your pressure washer isn't reaching full pressure. Your packings could be worn down, causing your pump to be less effective and have less of a seal around its openings. Your inlet water valve could be clogged, or the filter could be plugged, and not enough water could be getting into the machine. There could be a kink in the hose. Q4: WHAT KINDS OF DETERGENTS CAN I USE IN MY PRESSURE WASHER?
This pressure washer is intended for use with special pressure washer detergents only. Do not use powdered soaps, which clog the injection system.
TEANDE Gas Pressure Washer 5259. Powerful motor generates max 3200 PSI water pressure at 2.6 GPM water flow for max cleaning power. The Product is simple to use and great for cleaning decks, patios, house siding, outdoor furniture, and prepping home exteriors for painting. Its compact design is lightweight and small enough to be easily transported by one person. The Commercial Duty Low Profile Gas Pressure Washer provides cost-effective, professional cleaning power. Clean like a pro with the perfect combination of high-performance components and practical features. Keep work area clean and well lit. Cluttered and dark areas incite accidents.
Operate the product in a clean, dry and well-ventilated area. Do not operate the product in explosive atmospheres, such as in the presence of flammable liquids, gases or dust. Power tools create sparks which may ignite the dust or fumes. Never operate the product on a steep slope. Maximum Water Flow: 2.6GPM.
Engine Power (OHV): 7.0 Gross HP. No Load Speed: 3600 RPM.
Maximum Temperature of Pumped: Water 40°C (104°F). Fuel Tank: 2.6 L. Detergent Tank (Volume): 2x0.7L. Size: 58x48x67cm/22.8x18.9x26.3inches(LxWxH).
TEANDE 5259 is committed to perfection in every detail to ensure the customer's experience. We equipped the 5259 with. 20' long high-pressure water line.
Designed to match the soap nozzles; and of course, not to be missing is the powerful. Has always been committed to creating a good experience for our customers, and the. Is one of our current main products.
The 5259 will bring you unparalleled cleaning pressure and efficient cleaning experience. It's easy to move and with strong water pressure, it will solve your otherwise heavy cleaning tasks. With a maximum Pressure of.
And a maximum Flow Rate of. It will live up to its name of. TEANDE 5259 has 5 nozzles at the same time allowing you to do all kinds of cleaning jobs with ease, whether it's heavy or easy. Will provide unparalleled cleaning pressure, and you can clean those stubborn stains that are usually difficult to clean. Will clean a wider range than the 0-degree one, which will improve your cleaning efficiency.
You can use the 15-degree nozzle to clean mossy or moldy floors, very effectively! Is generally used in the most common scenarios, you can wash the car, wash the dirt, flush the dust, etc. Used to perform some easy chores, you can even use to water the flowers or give your pet a bath, but be sure to pay attention to the distance, or your beloved plants and pets may be injured.
To be used with cleaning agent, after loading the cleaning agent, launch the foam Cannon! Tip 1: WHAT DO I DO ABOUT A CLOGGED NOZZLE? Having a clogged nozzle will make the pressure build up in the pump, and can very quickly damage it. Tip 2: HOW DO I PROPERLY STORE MY PRESSURE WASHER? To properly store your pressure washer, you must first drain the gas from its motor and run it dry. The pump should have antifreeze run through it, and left inside the pump. This will protect the pump from freezing as well as protect the pump internally from corrosion caused by the water. In addition, it lubricates and protects the seals from drying out, making it ready to use at a moment's notice. Disconnect all the hoses from the machine, empty them of liquids, and wipe them down. Store your pressure washer in a cool, dry space.
Tip 3: WHAT CAN I DO TO HELP MAINTAIN THE POWER WASHER? Here are some tips to help maintain your power washer: 1. The engine oil should be replaced after the first20 hours of operation, or after the first month of use. After that, it should be replaced every 100 hours or every 6 months; 2.
Clean air filter element after every 50 hours of use(every 10 hours under dusty conditions). Wash in high flashpoint solvent, squeeze dry, dip in clean engine oil, and squeeze out excess oil; 3. Inspecting, Replacing or Cleaning the Spark Plug. Orders will be processed instantly and dispatched in 1 days. If item is defective after 3 months, you can still send it back to us.
We will send you a new one after receiving the defective item. We promise to help you solve it asap, and make you feel satisfactory absolutely.

---